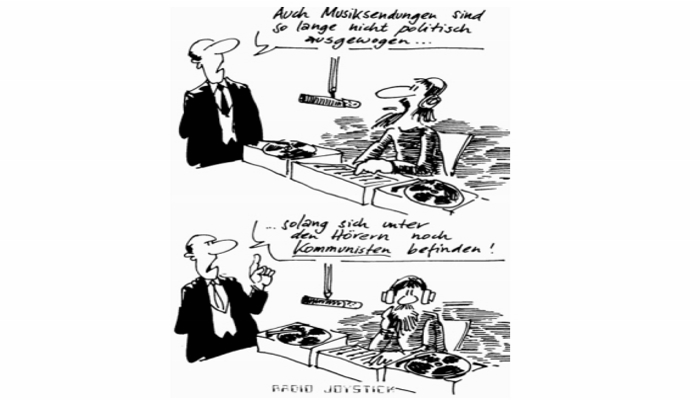 1985
March: Contract on broadcasts via Radio Milan International (RMI).
July/Aug.: Weekly testtransmission, even mentioned in Radio Austria´s DX-newsprogramme.
Sept.: On 7th of Sept. first regular show (120 min) via RMI; first delivery of cheap records from BMG Ariola in Munich; listeners mail even from
Algeria!
1986
Febr.: Until July monthly shows via RMI; delivery contracts with WEA Europe and EMI Cologne.
Sept.: Free Studio copies of RJOY´s birthday show (120 min) were sent to any interested listener;
Introduction of the wonderful RADIO JOYSTICK (RJOY) – QSL-cards.
Nov.: Introduction of RJOY-stickers!
1987
Jan.: Only on 3rd of Jan. the RJOY-show could be heard via RMI; end of Jan. the RMI- shortwave-transmitter signed off – for ever!
Until July weekly Black Musik Shows (120 min) for Radio Telstar Int. in East Belgium.
March: Charlie´s first show for "Kabelfunk Dortmund" of the "Westdeutscher Rundfunk".
April: RJOY reached No. 5 in the Pop Poll of "PIN Magazine" (Best german Free Radio progr.!
In summer one single show via WDR with noone else but Charlie and a bottle of mineral water in the studio!
July: Charlie´s second show for "WDR-Kabelfunk Dortmund".
Dec.: End of all delivery contracts with BMG Ariola, WEA, EMI and DA.
1988
March: First contact to the "Italian Radio Relay Service" in Milan.
1994
RJOY-shows via Radio Europe, Milan, in April, May, July, Sept., Nov. and Dec.
May: RJOY (60 min, repeated) via IRRS with help from "Short Wave Radio Switzerland" (SRWS)
1995
Jan.: First px of regular bimonthly shows (60 min, repeated) via IRRS/SWRS.
Sept.: RJOY-show with recordings from the "good ol´ days" and interview on Free Radio.
1996
July: The RJOY-show included an interview with the US-group "Magnapop",
Nov.: Radio Joystick (RJOY) reached No. 3 in SRS Pop Poll ("Best european Relay Station"!
1998
Again regular bimonthly shows via "Italian Radio Relay Service", SWRS became "Radio 510?.
Dec.: RJOY reached No. 7 with 33 logs in Germany´s "Free Radio Audibility Statistics"!
2003
Changing the musical format to Breakbeat, House and DnB. First reports on Malta.
2004
Now changing the relays:
In early summer it starts with WRMI in Florida (until Dec. 2004) and later in summer (until Dec. 2008) LVRTCin Riga with transmitters in Ulbroka!
In Autumn start on FM monthly via the Bürgerfunk on the local station of Muelheim an der Ruhr, NRW, FRG
for almost 4 years!
2007
Febr.: Weekly programmes every Friday evening at 8:00h local time on Medium wave, 1602 kHz, via Radio Waddenzee in The Netherlands!
2009
Return to relay station "Italian Radio Relay Service" in Milan, Italy, with musical change to the hits of the 70s up to now – and with a brandnew jingle package!
2012
Reduction of shortwave transmissions: 1 kW from R. 700 once a month only for Europe, but also via Internet
2013
With 100 kW from a much stronger transmitter in Issoudun (TdF) on our own – and brandnew – frequency 7330 kHz (41-m-SW-Band)
2014
Changing the transmitter: Now it is Moosbrunn near Vienna in Austria.
Our new stickers are 7,4 x 10,5 cm, available for double return postage!
2015
New homepage – this one!
2017
Listed on laut.fm and TechniSat ISIOLive Internetradiostations
2019
Introduction of two wonderful versions of Charlie–Prince-Show QSL-cards. Our new stickers 14,8 x 10,5 cm are as big as our QSL-Cards!
2020
Now we even offer merchandise – please support us!
2021
Sept.: Because of DAB+ change to a more professional broadcast mixer (Yamaha MGP12X) and to a real broadcasting studio microphone (Rode NT1A).
2022 
Rising costs force us in November to change our frequency to 11935 kHz and transmitter location to Kostinbrod near Sofia in Bulgaria.
2023 
Back to 7330 kHz and back to the Moosbrunn transmitting station in direct contact with Österreichische Rundfunksender GmbH & Co. KG (ORS).